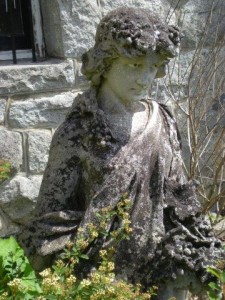 "God watches over all." (Garden statue, Hatley Castle, Victoria, May 2011)
She has great physical strength and an uncanny intuition. She finds people's weakest, troubled spots and tries to remove them, to free the person, to unclog and release them. She always does and tries her best, applying her best gifts of self altruistically, unselfishly for others. "If the person is not happy with my work, I would not be happy myself."
There is much more than meets the eye here. Much of who she is is about ongoing consciousness and reflects a quiet, comfortable peace and a non-missing-piece-centre deep within herself. She is one of the most integrated, balanced, open, honest, and kind people I have ever met. She is an extraordinary presence and force to be enjoyed and respected; and has a great sense of humor, looks for the delight and meaningful contact in the day's flow.
Yesterday, out of the blue, she said that God watches over all and that she tries to line up with that divine purpose and spirit of goodness. She does, sincerely. There isn't an ounce of phoniness or plasticness about her. She has a remarkable inner code and standard which guides her own life and spills over into the lives of those others she likes and trusts. It is a pleasure and an honour to know her, to be in her company, to have her helping/freeing me once a month for one truly remarkable epiphanic hour. My therapist. A true, inspired Sister of Mercy.
…………………..
An important, vital Other in my life.