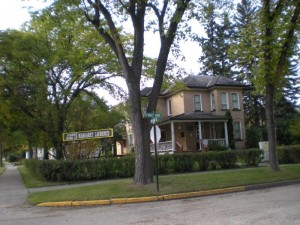 Margaret Laurence Home, Neepawa (aka Manawaka in her novels). Second time I've visited. This is the Big House (the MacLeod's) in A Bird in the House.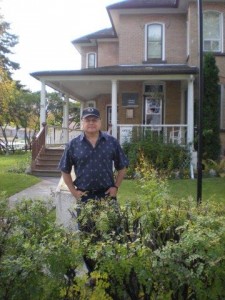 Stopped by on a September Sunday afternoon, just after a rain, on the way to Winnipeg. The house and grounds are well-kept by volunteers.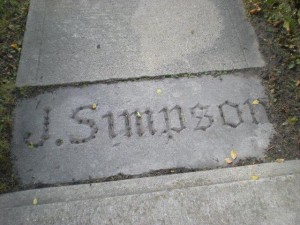 Sidewalk stone indicating the original house-owner, Laurence's grandfather.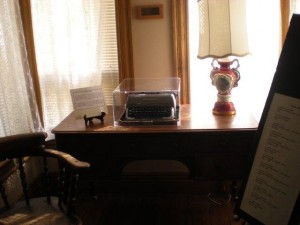 Her typewriter waiting for her return.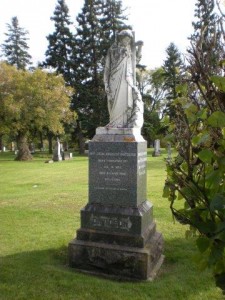 The Stone Angel (Davidson family) monument located far within the Neepawa cemetery.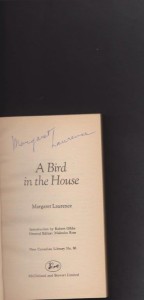 Personal signed copy of A Bird in the House–her greatest work. A collection of wonderfully interconnected short stories which I used to teach to Academic Challenge grade 10s. Still a great teaching novel for irony, characterization, symbolism, and themes.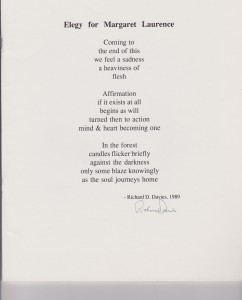 My poem on the back of the first issue of Vol. 1, No. 1 of Margaret Laurence Review magazine, 1991. First written in 1987 in Winnipeg.
There is a palpable sadness and great spiritedness about Laurence and her life. Although she had numerous regrets, she made the best of her lot even when her writing powers failed her. This is, of course, reflected, too, in her works and by her women characters' attitudes and choices regardless of how limited and limiting their contexts are.