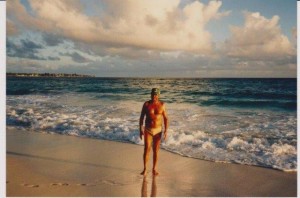 As photographs go
this is a defining moment.
Dad steps from the ocean
wearing a green ball-cap
bronze pectorals
glistening.
De profundis.
The only things missing
are marlin and trident.
Spirit.
He has emerged.
Transcendent.
He will live forever.
Self.
Only his footprints
grace the sand.
This is his beach.
Reality meets mythos.
Brine on flesh.
Dad is a god.
This is my father.
Sublime. Incarnate.
Even Hemingway nods.
…………………………………..
My old man will and does, of course, live forever in the art of my poem. The poem is based on an actual photograph taken by my mother on one of their trips to Mexico, the Dominican Republic, or Venezuela. They had also visited Spain and Portugal which loomed large in the Hemingwayesque mythos my father occasionally vicariously tried living. He was always in great physical shape (until his decline because of cancer) and he was definitely an enviable, attractive 'manly specimen'. My own passion to write and, specifically, to write an ode celebrating his power and grace, comes from him and the memory of him. I can only hope that some of his passion has been realized vicariously in my own life and work.