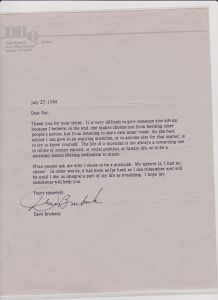 (from a signed Dave Brubeck letter I have)
July 27, 1988
Dear Pat,
Thank you for your letter. It is very difficult to give someone else advice, because I believe, in the end, one makes choices not from heeding other people's advice, but from listening to one's own inner voice. So, the best advice I can give to an aspiring musician, or to someone else for that matter, is to try to know yourself. The life of a musician is not always a rewarding one in terms of money earned, or social position, or family life, so to be a musician means lifelong dedication to music.
Often people ask me why I chose to be a musician. My answer is "I had no choice". In other words, it has been as far back as I can remember and will be until I die, as integral a part of my life as breathing. I hope my comments will help you.
Yours sincerely.
Dave Brubeck
…………………………….
To activate any photos not showing automatically, click on any picture frame. Then click "Continue to this website"–large pic, then smaller pic will emerge. When loaded, double-click upper left-pointing arrow twice to re-enter entire website with all blog photos now displayed. Pictures can then be enlarged or smallened as wished by clicking on photo. Three sizes in total.
"Know thyself"--words in a temple in Delphi
"To thine own self be true."–William Shakespeare, Hamlet
(posted in memory of the great jazz innovator-pianist-composer, Dave Brubeck, 1920  -2012, one day shy of his 92nd birthday)