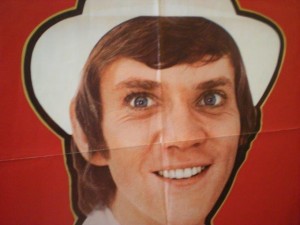 (photo of poster on study door; Malcolm MacDowell in film: O Lucky Man!)
My grade 5 teacher sent me beautiful flowers via e-mail. (She had no idea what day this was for me.) Ah, the world of minor miracles and happy accidents.
Just to say my19th Symphony under the Stars (attended every one) was splendid last evening, accompanied by my daughter. VIP treatment courtesy of the symphony–wine, special eats and desserts. An excellent program–Mozart and two Tchaikovskys! And an amazing 40 minute Dvorak sounding like nothing I'd ever heard before played by cello virtuoso Denise Djokic (how's that for destiny?) Can music and life get any better?
Apparently it can. I ordered my own birthday present–a 60 CD set of Tchaikovsky! My old friend Ken once shook his head and said to me, "My, you sure know how to live." And he was absolutely right. 22,360+ days. So far, so good.