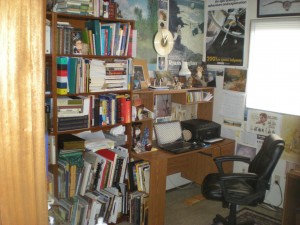 My main office/study for the past 30 years. Whence "Tothineownselfbetrue.ca" originates. Posted on Twitter #ACCreative and on Twitter (both Jan. 28, 2014)
The Information in close-up, note: gold record clock, (posters from left to right on wall–Monet, Ryan's Daughter, 2001: A Space Odyssey; left of chair Trials of Oscar Wilde poster, to right–Beatrix Potter Peter Rabbit poster.) Owls on shelf above black printer. Apple calendar to left of computer as well as blue china ring hand 'holding back' hourglass and glimpsed "All is Vanity" classic illustration. Grandson pics by hourglass. Pic of Thoreau's cabin (facsimile) from my 1st Walden Pond trip. Beethoven bust on first book shelf. Above clock, pic of former black female miniature poodle–Pepper, squirrel (in honour of backyard squirrels present and past). On bottom two book shelves, art books, Above that, two shelves of reference books. The color-striped binder contains my collected poems. Top right–poster of owl wingspan coming toward viewer. Above laptop–Life mag cover of RFK jogging on a beach followed by his dog–the June 14, 1968 post-assassination tribute photo. Above the scanner–"Time to Clean Up", a watercolour by late poet-friend-significant influence Dean McKenzie. Wooden foot roller on floor under desk. Group of 7 calendar beside the fall sun-lit window blind.
To activate any photos not showing automatically, click on any picture frame. Then click "Continue to this website"–large pic, then smaller pic will emerge. When loaded, double-click upper left-pointing arrow twice to re-enter entire website with all blog photos now displayed. Pictures can then be enlarged or smallened as wished by clicking on photo. Three sizes in total.