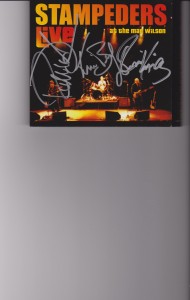 (CD signed Friday night by The Stampeders–guitar–Rich Dodson, drums–Kim Berly, bass–Ronnie King)
I'll have to pack my things and go"
Or so the legendary Ray Charles declared on "Hit the Road Jack", one of many great songs to be performed tonight at a sold-out Century Casino Showroom by the popular '70s Canadian trio The Stampeders.
Show and catalogue include:
Devil You (the high-voiced intro typically)
Carry Me (their first hit–very folky, anticipating folk-rocky Blue Rodeo stylings some 2 decades before)
Minstrel Gypsy (nice folky ballad hit)
Marigold (a wild instrumental shades of The Ventures and Shadows with a touch of Al Caiola)
Ramona
Running Wild (interesting to see the original 3-man unit generate that much heavy rock in this one and the previous)
Hit the Road Jack (which used Wolfman Jack's voice much as did Guess Who in "Clap for the Wolfman")
Then Came the White Man (in time for the all the residential school presentations here these daze)
Playing in the Band (the repetitive wonky hip tune minus the sexy brass, of course)
Oh My Lady (their other ballad hit)
Sweet City Woman (the big international hit to kick off the '70s with a banjo no less)
Wild Eyes (one of the great heavy rock anthems of all time–live; the extended version with drum solo)
New Orleans (with "Hit", the other old retro hit really rocked)–*only one they didn't do
Stand Up (a Kinks-style rocker)
Johnny Lightning (a Chuck Berry-guitared rocker)
I grew up in Winnipeg with The Guess Who, but once here in Alberta, found The Stampeders getting as much radio play with more songs heard on the radio well beyond the latter's demise in 1975. The original threesome (guitar, bass, drums & 3 lead vocalists) reunited in the '90s and continue to tour, mostly across Canada. They recently issued an amazingly good double CD live concert, in Moose Jaw of all places! Many of the cuts feature the group as a threesome sans extra guitar dubs, quite representative of their show and actual live sound.
…………………………………………
After/ Fantastic 2 hr. show. Older crowd, many dancing. Ronnie King (bass) switched to guitar for 4 songs which showcased his talents more. Amazing drum solo in "Wild Eyes". Stuck around to meet them again. Told them they have three strong vocalists and that they were my favorite Canadian rock band (despite my growing up in Wpg. listening to The Guess Who). They certainly have had a longer career than the latter with more songs I care to listen to these daze. A wonderful way to end the week.     Next up–South Africa's best–Johnny Clegg at the sold-out Festival Place again. Concert 6 of 6 in 2 musically live/ly fullish months.