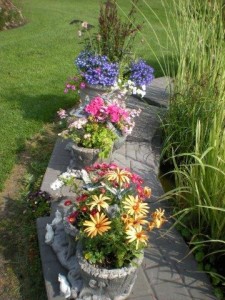 (picture from trip to sister-in-law's park-like farmyard in Morinville)
If accessing site from Internet, activate any photos not showing automatically, by clicking on any picture frame. Then, despite Caution, safely click "Continue to this website"–pics will then emerge. When loaded, double-click upper left-pointing arrow twice to re-enter entire website with all blog photos now displayed. Pictures can then be enlarged or smallened as wished by clicking on each photo per se. This blog is, incidentally, Read-Only, but you can reach me by Google-searching "Richard Davies Edmonton" for the first link which comes up–my LinkedIn address, and you can access basic and contact info via there.
…………………………………………………………………………………………………………..
…has finally reached Edmonton the third week of May when the May trees are in bloom– their fragrant scent wafting through neighborhoods.
What little beauty we have in our yard through spring and summer depends on opening our deeper pockets to buy flowers and plants. There are so many species and colours to choose from. A small price for 3-4 months of intense surrounding beauty, transforming yards into private-personal mini-parks. (Last year's flowers made it as far as Halloween with some overnight- or cold-day garage storage. And any year one can cycle into November or December helps, too.)
Fall colours have basically a 1 1/2-2 month run here, giving respite from the long white which lands from November into March or April: a 5-6 month very static-dry winter of our discontent with furnaces running every day. A good reason to head south in January or February–preferably to the desert and/or the west coast–flowery-parksy-oceany Vancouver or Victoria in April or early May.
Balance–completely necessary for outer and inner survival and relief from Jack- London-styled cabin fever. With access to natural beauty–the closer to one, the better.