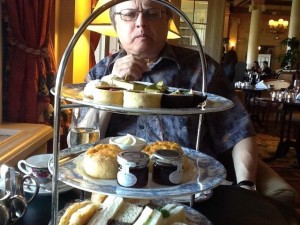 …rather than of thoughts!"–John Keats
A focused, thoughtful moment pondering sensuous delectables on a three-tiered tray, afternoon tea at the Empress Hotel, Victoria, this spring. Cucumber sandwiches made- to-order by special request (bottom level) being enjoyed first.
If accessing site from Internet, activate any photos not showing automatically, by clicking on any picture frame. Then, despite Caution, safely click "Continue to this website"–pics will then emerge. When loaded, double-click upper left-pointing arrow twice to re-enter entire website with all blog photos now displayed. Pictures can then be enlarged or smallened as wished by clicking on each photo per se. This blog is, incidentally, Read-Only, but you can reach me by Google-searching "Richard Davies Edmonton" for the first link which comes up–my LinkedIn address, and you can access basic and contact info via there.