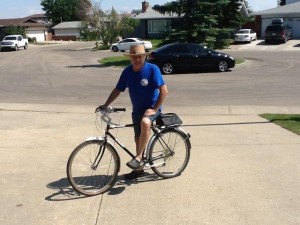 Every spring I resume riding my fendered 6-speed Raleigh Oasis and continue into the fall. I have been doing this since I bought the bike in the mid-'80s. I can remember riding it into December, a couple of weeks from Xmas with no snow on the ground–an incredible riding year.
I initially rode my mother's wonky pink single-speed despite criticisms of school friends–all who owned multi-speed bikes. I rode that bike far those early years in Winnipeg and pretended I was a bus in my early elementary years. (My only goal at that time was to be a bus driver.) And then suddenly, out of the blue, my wild grandmother bought me a CCM 3-speed from Eaton's and my bike career moved into a higher gear. I would use it for delivering my papers and getting around for miles with friends. I will always remember riding the melting spring streets from Wallasey to the air force base to see movies with my Thompson Drive bud Bob (Hutch) Hutchinson, my friend into grade 6. I also used it in winter to deliver drug store prescriptions from the original Briggs and Maxwell pharmacy at Thompson and Portage Avenue.
But in grade 9, it began to be uncool to ride a bike as I joined forces with the grade 9 Silver Heights gang and acquired a girlfriend in the process. I began to walk long distances suddenly everywhere. That would be in 1964. So it was a long 2 decades until I came full circle and moved up 3 speeds into the 21st century. Ps/I still enjoy the freedom of not wearing a helmet and look forward to riding with my grandson one day. And I'm glad I never became a bus driver!