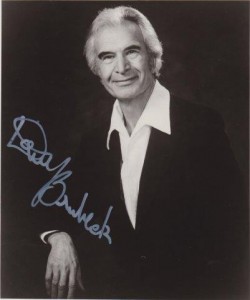 (signed photo of one of my musical heroes and influences–the late, great Dave Brubeck)
No less than the great Woody Allen well understands the power of music and its role in contextualizing and underscoring the scenes and movies of our lives. Going totally against the prevailing mindless grain of pop movie soundtracks, The Woodman has done much to preserve many great jazz tunes by using them frequently in his movies. The most recent song he has ever used effectively appears in Mighty Aphrodite and Manhattan Murder Mystery–the 1961 top ten hit "Take Five" (the highest chart-ranking and most widely popular-ever instrumental jazz piece).
As I was starting to say, Woody understood that music is a powerful art form in communication and underscores the rhythms of our lives, scenes, and moments. Brubeck's inventive, unconventional 5/4 masterpiece features 2 melodies which mellow saxophonist Paul Desmond suggested for the beat Brubeck wanted to use on piano. Bassist Eugene Wright was the firm unwavering anchor for all that happens elsewhere in this piece. Drummer Joe Morello is the freest featured player offering a most unconventional drum solo in the middle that shows how far the simple repetitive rhythm could be extended and extrapolated–into another, related percussive 'melody'. Pure genius.
I often hear music–inner music you could call it–in just about everything I do. Snatches of pop song melodies, percussive rhythms, and even harmonies. For me, music remains the art form that most affects the human individual, especially those with the sensibilities and non-deaf ears to hear, play, and freely mingle with all three of the above. If I was to identify a subtle signature song of my own, my heart and soul, it would simply be Brubeck's "Take Five" which built its melody and harmonics on top of a different unconventional, deliberately-chosen beat (much like Thoreau's drummer). I have always moved and ad-libbed to an underlying music which sounds very much like this tune: da-da, da-da/da-da, da-da over and over. It is my signature rhythm which impels me forward and has done so, largely, improvisationally, and sometimes beautifully through time.
Brubeck's insistent piano is like the core of Me which has confidently moved forward in many situations, through many changes. Paul Desmond's pure sax represents the purest poetry of my life. Eugene Wright's bass playing represents the steadiness of vision holding all together. And Joe Morello's so-inventive drumming symbolizes whatever best and original moments that have marked my life. In a real sense, to know me is to know "Take Five" and vice-versa. It is everything I am, have been, or ever wanted to be or become in my life. Musically and otherwise. My objective correlative in musical form.
………………………….
"The world should listen then–as I am listening now."–Percy Bysshe Shelley, "To a Skylark"
For more of Dave Brubeck, c.f. his letter in the Dec. 6, 2012 blog entry, "Advice to a Young Musician".