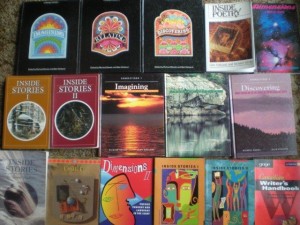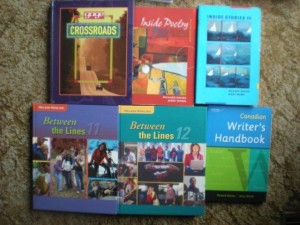 My school textbooks (minus the accompanying teacher guides) in chronological order left to right, top to bottom:
1981: Crossroads 1: Imagining, Crossroads 2: Relating, Crossroads 3: Discovering
1984: Inside Poetry
1986: Dimensions: A Book of Essays
1987: Inside Stories I, Inside Stories II
1990: Connections 1: Imagining (2nd ed.), Connections 2: Relating (2nd ed.), Connections 3: Discovering (2nd ed.)
1993: Inside Stories for Senior Students
1995: Choices
1996: Dimensions II
1999: Inside Stories 1 (2nd ed.), Inside Stories 2: (2nd ed.)
2000: Gage Canadian Writer's Handbook, Crossroads 10
2002: Inside Poetry (2nd ed.), Inside Stories III, Between the Lines 11, Between the Lines 12
2008: Nelson Canadian Writer's Handbook, Persuade Me
2010: Inside Media (completed, but not published)
In total, 24 textbooks, 21 teacher's guides= 44. Many more articles, monographs. Something like 70 school-related publications in all.
These textbooks have been authorized and used in every Canadian province at some time from 1981 till now (2014) for grades 9-12 ELA. Over 1 million units sold in the past 43 years. With multiple classroom usage, used by an estimated 3-5 million Canadian students. Many of the post-1999 books remain in print.
For the record, publishers have included Gage (extinct), Harcourt (extinct), Pearson, and Nelson. My excellent co-authors, without whom none of these projects would have been possible, have included Jerry Wowk and the late Glen Kirkland, both of Edmonton Catholic schools.
…………………………………..
My 2004 literacy tipsheet series, available from Edmonton Public:
Film as Text, Matters of Choice (in Writing), Metacognition: An Introduction, Sharing a Personal Response, Listening and Notetaking Skills, Understanding Character, Revise Your Writing, How to Do a Critical Response, Responding to a Photograph, Writing a Film Review.
I was also a consultant for a junior high 6 book ELA series for Pearson in 2008.
………………………………..
"What a man essentially is is revealed by the record of what he has done, and by what he is trying to make of himself at any given moment."–Northrop Frye, "Myth I"