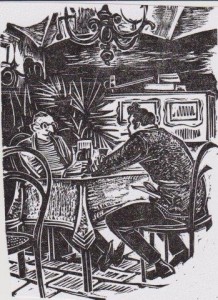 (photo of great Hans Alexander Mueller woodcut illustration of Ossipon meeting 'The Professor' in The Secret Agent from 1942's  A Conrad Argosy)
…Joseph Conrad's classic The Secret Agent, published in 1907. The New York Times called it "the most brilliant novelistic study of terrorism." Conrad presents numerous truths on this topic in the earliest, most prescient study of irrationalism, terrorism, agendas, and anarchy ever written.
…………………………………………..
A rather faithful Christopher Hampton written and directed movie adaptation of this book starring Bob Hoskins, with appropriate emotional music by Philip Glass, and with an unbilled appearance by Robin Williams as the anarchist Professor, is well-worth a look. It captures the numerous conflicts, setting and atmosphere, and plot of the original. The autistic Stevie and Professor are, as in Conrad's book, the symbolic centres of the movie.