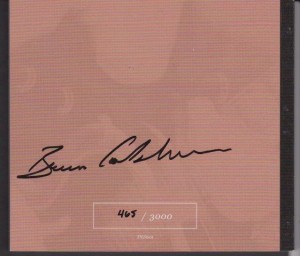 Indubitably, Ottawa-born Bruce Cockburn (1945-), of course. Bruce's still-active half-century performing career, travels abroad, 31 albums, recent 9-disc boxset, 12 Junos, 8 honorary degrees have long merited attention. He has also won the Office of the Order of Canada, the Governor General's Performing Arts Award, and the Lifetime Artist Achievement Award.
In the fall of 2014, Cockburn reached the absolute zenith of his career, simultaneously releasing Rumours of Glory, a long-waited-for autobiography and a significant, personally-archived boxset collection of his music to date. 117 songs (with 16 new rares), his first-ever full-length DVD concert disc, and a 90-page illustrated booklet.
Uniquely, Cockburn has autographed and numbered each one of the 3,000 copies available (cf. above image of my copy). Anyone who is a true Bruce fan will not want to miss purchasing this very special, limited edition boxset.
………………………..
I was introduced by my best man/musical university-friend David P. to Bruce's first album and saw him a year later in his first performance in Edmonton at an old church in Garneau. At that time, he played both piano and guitar. I have subsequently seen him about 12-15 times over the years, and I should point out that most of those shows were solo–which is his most common way of performing–just voice and amazing guitarwork. (He remains the top folk guitarist ever in Canada–check out his remarkable solo guitar album Speechless.)
I used several of his song lyrics in my Connections series and two editions of Inside Poetry. I told him of this when I met him in person the last time he was in Edmonton and had a signing. We talked a little about the above forthcoming book; he was very friendly and easy to talk to. Definitely, a slice for me to meet one of my folk heroes after following him for 44 years.