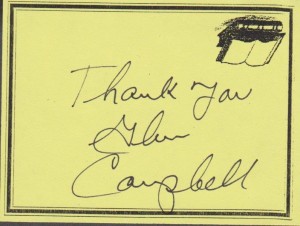 (note enclosed in one of my books; the upside-down book is perhaps somewhat telling)
Regardless of some well-publicized abusive behavior toward previous women in his life and extended problems with drugs and the bottle, it is hard not to feel empathy and some pity for the huge decline of Glen Campbell's mental health at age 77 (Alzheimer's and now aphasia), as well as respect for his publicly sharing his conditions with the public in a strong documentary, "I'll Be Me", broadcast last evening on CNN.
Campbell is shown to be an obviously ill person with a still-note-perfect, piercing voice and strong guitar-soloing skills. It is important to remember and contextualize him as the pre-Garth-Brooks megastar and tv show host of the late 1960s with a catalogue of hits including "Less of Me", "Mary in the Morning", "Gentle on My Mind", "By the Time I Get to Phoenix", "Dreams of the Everyday Housewife", "Wichita Lineman", "Galveston", "Where's the Playground Susie?", "True Grit", "Try a Little Kindness', "Rhinestone Cowboy", "Country Boy", "Southern Nights", "Sunflower', This Is Sarah's Song". It was appropriate and particularly touching to see no less than Paul McCartney thank him in person after a concert for all his great music.
It is simply amazing that Campbell, his family, and friends toured in 150 shows (!) in his last reasonable year until the illnesses finally ended this triumphant, touching farewell. I was especially impressed by his wife's and daughter's devotion to him and the no-holds barred info about specifics of his condition whether that included peeing in the corner of a room, or becoming borderline aggressive with golf clubs at home and picking his teeth with a knife while on tour. I highly recommend this profile of a true star in decline, especially to people with Alzheimer's in their families. It's a real eye-opener and has done much already in a short time to draw attention to this tragic medical condition.