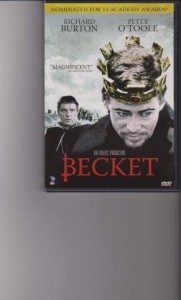 (available from MPI Home Video)
Those were the days, indeed. One of the best historical films ever made and a strong script that began as a stageplay, Becket is a study of two friends, betrayal, and conflict between state and church. Henry II (Peter O'Toole) loves his friend Becket (Richard Burton) whom he–unilaterally circumscribing Rome and the Pope–installs as England's Archbishop of Canterbury. Becket, who has long given in to Henry's wishes, changes after the appointment, taking the latter seriously, and becoming God's agent in earnest; hence, the main conflict.
Both great actors are in fine form. O'Toole is very believable as the rejected King who would have laughingly given away the world for his friend. As he puts it, Becket does not love him as much as he does Becket; hence, another deep conflict and sense of betrayal. Burton is equally convincing as the man who finds a higher loyalty, calling, and purpose. The film has a strong screenplay (based on Jean Anouilh's play) by Edward Anhalt, terrific music by Laurence Rosenthal, and minimal cuts by editor Anne V. Coates and director Peter Glenville who wisely let the scenes between the lead actors flow uninterruptedly, unlike the choppy, not-necessarily-purposeful-editing which invaded mainstream films after the sixties.
Becket is a genuine, memorable film classic which still stands up today, especially for filmgoers interested in great scripts and masterful acting performances. Highly recommended for people largely bored by and dissatisfied with most mainstream films made after 1990.