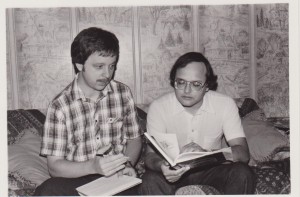 (An old social compartment: authors Davies and Kirkland starting out, 1980)
………………………………………………………………………………………………………
Our lives and relationships are made up of many compartments. Often we even choose to keep these separate or from mixing with one another.
The compartments serve different needs and purposes, but in each case, the chosen ones are necessary in some way and address some part or aspect of ourselves, our values, and inner needs.
Often we are different in each compartment, revealing different facets of our potential and, often, real selves. One-on-one with someone else, our presences manifest themselves or are shared with others. We open up and express what we typically do not say in many other contexts or compartments. (This usually, incidentally, happens with close friends, neighbors, and sometimes co-workers.)
Cohen sang of "My Secret Life" and there is something of this to our lives of compartments and quite often what is said or happens there, stays there, so to speak.
Each time we connect with someone or become closer to that person, a compartment is potentially formed, especially if it continues over a period of time. The most successful compartments occur when people respect and trust one another as well as accept, understand and appreciate one another. Never do people in the most successful, positive compartments treat each other as means to ends, rather just as ends and interesting autonomous beings in themselves.
Obviously, I believe we all have inner needs, people we are close to outside of family (even marriage), and private spaces we occupy in the flow and episodes of daily or long-term life.
It is in these compartments, that we play different roles or manifest basic values and desires. Each compartment fulfills a different aspect or need of self, and with each fulfilling compartment, we move more outside ourselves, connecting with others, while at the same time, revealing our true inner selves. A dual balancing process that bespeaks both inner and social health and well-being.
…………………………
I will just add that individuals have many solo compartments of their own. These are for solitude or refreshment, and are found at home, in childhood, in Nature, etc. Private personal spaces to breathe, play and contemplate on our own. (I still believe the solo compartments are more basic or fundamental ways we experience, initially, in life. Anyone who is an only child or watches a baby play understands this truth.)