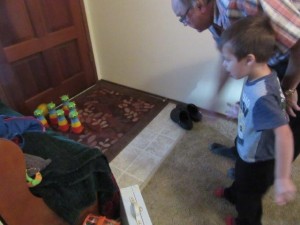 (after a throw–a big miss, yellow ball behind pins; a variation is to kick the ball at the pins)
Front hall entrance. To be reprised this Saturday after grandson 1's dance class. He will also be putting Xmas decals up in the patio window.
Last time he was here, I showed him Gene Kelly's classic rain dance in Singin' in the Rain. He loved it and his first Donald Duck cartoon. High culture!
This week's viewing may be Laurel and Hardy's famous pie fight or piano-moving antics up an L.A.hill in their priceless "The Music Box". I also have the classic "The Snowman" animated film lined up for him later for Xmas.
December is easily the best month of the year and I've long noticed that Christmas brings out the best in anyone you meet here this month in Katzville. A big chance to play and gift to others. And, as above, lots of time to reconnect with one's own vital Inner Child.
……………………………………………………..
Speaking of Inner Childness, I will be reading my Christmas poem, "A Vermont Boy's Christmas" at Audrey's Books, Sunday at 2 pm. Should be fun.