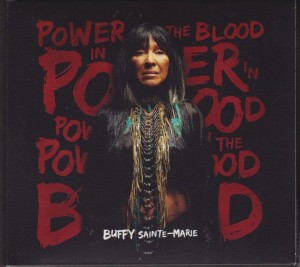 (Buffy Sainte-Marie's hot new album)
(left: signed1996 DVD, shown on CBC; right: signed 2008 CD with bonus DVD A Multimedia Life–about her early experiments with multi-media and new technology of the time)
(left: signed concert program from around 1968; signed illustrated 1971 songbook)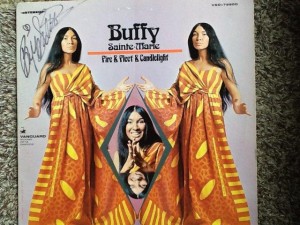 (signed 1967 Vanguard record album–when my interest in and respect for Sainte-Marie began)
My familiarity with First Nations persons whom I know of and have respect for is, admittedly, a short one: Lorne Cardinal (a very funny guy on Corner Gas), Kenojuak Ashevak (the most famous Inuit woman artist), Preston Singletary (an impressive contemporary American native-artist), Thomas King (one of Canada's most satirical writers), and Drew Hayden Taylor (a similar witty writer).
But I've long had most respect for Buffy Sainte-Marie, a First Nations artist from Saskatchewan, since I bought her legendary Fire, Fleet, and Candlelight record back in 1967. Buffy is the most notable native case of "To thine own self be true" that I can think of. She has written many memorable songs ("Until It's Time for You to Go", "Up Where We Belong") and been the longest-standing live concert native performer I can think of. She has always kept up with the changing times and technology and long been a significant political voice for her peoples.
I had the distinct privilege of meeting her after a wonderful concert at Sherwood Park's Festival Place Sept. 18, 2009. What a beautiful, mighty, gracious spirit that belied her surprisingly diminutive height! (I had always imagined her to be taller than me at 5'7″.) She was dressed in white fringed ceremonial attire which was an absolute knockout appearance-wise. She was all graciousness deigning to sign a number of items I had brought along and soft-spoken. A true lady. Very impressive and in great vocal form that magical evening.
Well, Power in the Blood–what an awesome listen with a wide range of songs including one from her very first album back in 1964, "It's My Way'–an incredible opening number for the album: ("I've got my own world. I've got my own life.") The heavy Alabama 3 adaptation of "Power in the Blood' ("I don't mind dyin'") introduces anyone who's a novice to Buffy's politics and social protest songs. "We Are Circling", a sacred song, illustrates her deep sense of connectedness to Nature and humankind.
"Not the Lovin Kind"("Love for you is a matter of no deposit and no return") is an example of one of her typically honest love songs. "Love Charms", which follows, is another of her 'spinning circle' songs about relationships. There are two delicate love songs on the album and "I Love You, Baby" is a lullaby to her people ("On some reservation your purification's begun"). "Farm in the Middle of Nowhere" is a pleasant laid-back countrified tune–the type she has always written with a simple, but effective organ solo by Aaron Davis, one of several strong instrumental contributors to this, at times, percussion-heavy selection of songs.
"Generation" is another memorable oldie song from the '80s with its super chorus: ("And they sing bye-bye scars of history, and bye-bye bankers trust/Aquarius is shining but the Sun is one of us./And me I don't wanna go to the moon alone, I'm gonna leave that moon alone./I just want to dance with the Rosebud Sioux this summer.") It features a very heavy guitar solo which speaks to Buffy's long-abiding interest in rock sounds. "Sing Our own Song" is another adapted song, this time from UB40 ("We will slide your control from our lands."), yet another eminder that Buffy has stayed true to her social protest roots.
"Orion" is the wispiest of all the CD's numbers, supported and eloquently expressed by Buffy's long-time collaborator Jack Nitzsche ("And of all my dreams come true the best is now.") The next track, "The Uranium War", shows Buffy's humor at its best–a wickedly satirical piece ("Hey rip 'em up, strip 'em up, get 'em with a gun."). The positive-toned and lyriced "Carry It On" closes the program and offers her best hopeful wishes for humankind, her peoples, and Nature.
I believe this is probably the best album Buffy has ever recorded. She is in great voice whether singing seriously, romantically, humorously, or protestingly. The overall sound of the album is extremely contemporary and well-produced by four people, including Sainte-Marie. As usual she includes native chants in the mix that add sincerity and authenticity, reflecting her heritage and intentions. Musically, I loved and appreciated all of her choices. She continues to be the top First Nations recording artist of all time and has deserved the many accolades that have been awarded to this successful return to the recording scene at the ripe young age of 73.