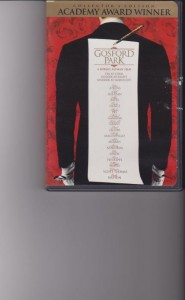 (highly recommended Alliance Atlantis DVD with extras)
and one of the best of Robert Altman's career. Gosford Park, a comedy-romance-whodunit. A wonderful playful, engaging film featuring some of Britain's great actresses and actors: Alan Bates, Stephen Fry, Michael Gambon, Derek Jacobi, Helen Mirren, Clive Owen, Maggie Smith, Kristin Scott Thomas, Emily Watson.
Script by Academy Award winner Julian Fellowes. Great interplay between upstairs and downstairs. Each actor and actress given sufficient room to breathe and come alive in their parts, which are evenly distributed. Quite often it is the asides and accidents in production which make this film and any Bob Altman film entertaining and memorable.
Although there are clichés and stock characters, the performances tend to be unique and unconventional, as free as Altman himself.
Sets are realistic for 1932 England. Altman used several actual servants from the thirties who advised actors contributing to the authenticity of their roles. Music is special and functional echoing several themes. Appearances, of course, are deceptive and there are many masks, roles, lies and agendas going on that keep everything realistic. In many ways, this is 'women's picture' and the men are satirized and, in one case, get their just deserts. Most enjoyable are the dog motif and the detective's repeated introduction of himself. This is also very much a play, simultaneously, with secrets that will out and characters, above and all, who get their various shining moments in the sun and limelight of this timeless picture.