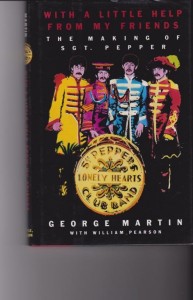 (recommended scarce Little, Brown dj book, 1994)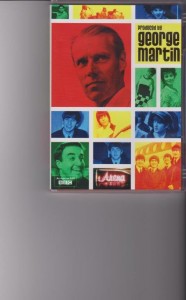 The Beatles wrote great songs and sounded fine on their own, of course, but The Fifth Beatle facilitated their sound and best, unique work, no question. Listening to "Love Me Do" and "Please Please Me" was anyone's memorable introduction to the band, (Martin suggested the harmonica again on the second tune and getting them to play it as fast as possible.)
Later, he talked McCartney into using a string quartet on "Yesterday" which convinced the latter enough to try strings on "Eleanor Rigby". And Martin was responsible for the fantastic Baroque keyboard solo on "In My Life'. He was a talented all-round musician, producer, and technician–the latter coming into play on "Strawberry Fields Forever" and "Tomorrow Never Knows" with their unconventional backwards and speeded-up splicings.
The orchestral arrangement of the 'off-rhythmed' "All You Need Is Love", the ambient sound effects on Sgt. Pepper's Lonely Hearts Club Band, the final piano chord of "A Day in the Life", and the mixing of electrical instruments with violins on "I Am the Walrus" were all other famous, memorable Martin  moments from the Beatles' catalogue. Not bad for a guy who had previously specialized in comedy records and produced Peter Sellers' best audio work.
And, during the British Invasion per se, there was much more including ten top hits in a row including non-Beatles acts like Cilla Black, B.J. Kramer and the Dakotas, and Gerry and the Pacemakers. Later Martin would do two Bond theme songs, Elton John's "A Candle in the Wind', and albums by America. He also built a famous studio in Monserrat which groups like The Police would record in, so his musical legacy went far beyond the Fab Four.
Although Martin was bitter about being embarrassingly underpaid by EMI while their record sellers cleaned up financially, he was happy that he was free and left alone to play around at Abbey Road studio, and counted himself a very fortunate, happy man four years ago before he died–on the wonderful, excellent 138 mins. Produced by George Martin Arena Grounded Productions DVD (pictured above, highly recommended).