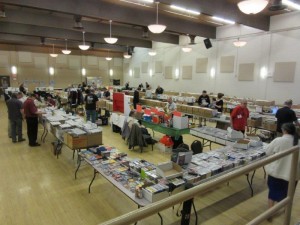 (a portion of the gym before the doors opened)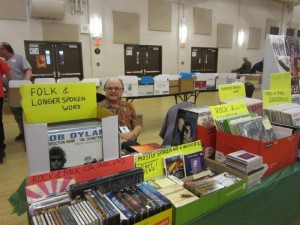 (ready to go; one buyer wanted to buy my shirt!)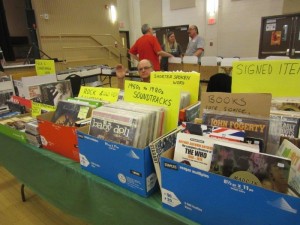 (another view: ready to go)
Every year I travel to the nice Lion's Centre on 11th Avenue to join my record-collecting brethren (their stock includes CDs, cassettes, books, shirts, and ephemera). The term "Elsewhere Community" derives from Hugh Kenner's CBC Massey Lectures series. In his talk, Kenner describes how we often have a need for cultural stimulation that is encountered in a particular context much in the style of the old Grand Tours of Europe that North Americans used to go on to fulfill deep spiritual and cultural needs. So a significant cultural exchange context.
Much like The Stroll of Poets Society and the upcoming Edmonton Poetry Festival–two other Elsewhere Communities I am a part of– a whole host of aesthetic possibilities open up at the record collectors show. There, I network with familiar faces and prominent figures, as well as share accumulated information and wisdom about artists and recordings–something I can't do at home or with my closest friends. One guy was surprised that Jimmie Rodgers (whom I've personally corresponded with–"Kisses Sweeter Than Wine", "Honeycomb" was still alive); another that Miles Davis sat in the dark of a French movie studio spontaneously composing the soundtrack for Louis Malle's Elevator to the Gallows).
At the same time, I continue to sell off my downsized audio collection which includes signed items, rare or scarce books and records–many from the spoken word genre (which makes me totally unique in Edmonton) as well as from my now greatly-reduced soundtrack collection.
Yesterday–the fall and spring events are always on Sundays–I spent from 8-4 setting up, showing and sharing, then taking down my display. I had many positive and unexpected moments connecting people with items they didn't know were on my 8-foot table. One older lady was a devout Guess Who and Kinks fan. I was able to connect her also to a live Guess Who DVD, which she didn't know existed.
Sometimes this also means deterring a sale as when I pointed out to the proud parents of their daughter protégé that the Bach album by Wendy Carlos was not on regular piano, but rather on Moog synthesizer! Hilariously, they ran for the hills in shock, disappointed the music was not what they had conventionally and limitedly presumed.
Another nice moment was when I dropped the price of a rare Cream live boxset for some keen Cream teens who had limited funds. They were totally ecstatic to walk away with their prize; it had made their day. Similarly, a young man who really wanted my rare Martian Chronicles LP, was short by $15 on the asking price; so I lowered the price and he was pleased as Punch to get something he really wanted with his limited funds just before closing time.
And at the end of the show yesterday, I gave my friend George–who organizes the show and who had a table behind me–a nice Tony Bennet book with a CD which he marvelled at. Such moments as those are precious; I often find that giving the right gift spontaneously to friends is one of the best expressions of gratitude for whatever.
Overall, it was another fantastic event with two TV networks around to do media coverage–the event is so highly-regarded, unique, and awesome. And exhausting as usual, too.
Yet so many special moments including a reconnect with a former Scona student who has done well for himself as a dj, the highly respected owner of Stony Plain Records (a signed item fan with a huge collection), and a new connection with Dave who collects soundtracks and will likely be interested in my next soundtrack downsize.
As Elsewhere Communities go, I can think of none much finer than the Edmonton Record Collectors Show. Kindred spirits, truly interesting folks, and priceless episodes.