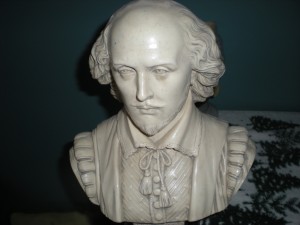 (prominent bust in my room)
…………………………………………………………………………………………………………….
one place to find real Beauty, Heroism, Depth, and Truth is in an Elsewhere Country called The Complete Plays of William Shakespeare. There is no need to distract with or be distracted by clearly agenda-ed de Vereism wishful-thinking or the terrible light-weightedness of the recent Shakespeare's Grave doc (BTW The King in the Car Park doc and the Richard III dig had way more basis, credibility, truth, and conclusiveness).
"The play's the thing" as Hamlet and Shakespeare both declared. It is there you will find much worthy of pleasure, greatness, serious engagement, inspiring thoughtfulness, great ideas and meanings, rich fantastic words (the best of any writer in the English language), and much relevant purpose. That the author is a dead, white male is also very irrelevant. He is simply the world's greatest writer and his remarkable canon is way beyond question and phony, jealous, uncontextualized criticism.
"Happy D-Day to Da Main Man."