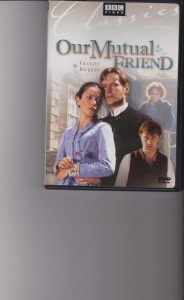 (two big thumbs up–the thoughtfulness, artfulness and pacing of this strong production is better than 90% of the crap out there on movie and tv screens today–BBC/Warner)
Certainly one of his best along with Great Expectations and Bleak House. The BBC productions of GE & OMF are outstanding, in particular. OMF is centered around money, class, and relationships–a theme he explores in the books mentioned above. Nobody ever did this better to the extent that these Dickens' books remain key reference points for people living in our time. His themes, conflicts, and characters do not date.
As Boffins puts it, "Money, money, money…" A theme picked up on by many famous writers later including dreiser (Sister Carrie), Wharton (The Age of Innocence) and Fitzgerald (The Great Gatsby). There is no question, incidentally, that Fitzgerald read OMF–the Valley of Ashes owes much to the dust heaps of OMF.
'It's all there' in OMF–friendship, betrayal, irrational and violent impulses, exploitation, relationships, generosity, hate, love, etc. Dickens always scored well on patterns, themes, and symbols in English classrooms of high school and university in days of yore. In OMF, beyond the money/class central subject, the two main symbols are the river and the ash heaps inland. Both are symbols of life, materialism, death, even love and hate. Dickens had a fantastic imagination and saw steadily and whole into human nature and a wide, representative range of human characters and possibilities. For my money, because of his artful canon, he remains the most significant novelist writing in English ever, and easily deserves a place alongside Shakespeare and the other great writers.