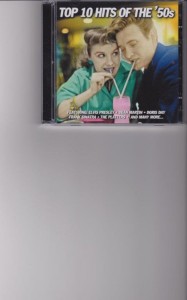 78s were still around when I became conscious about age 2-3 of popular music of the day: "Sincerely" by The McGuire Sisters" and "Dear John", a novelty record by the great wit Stan Freberg. Radio was still king in the '50s and '60s, and my mother even slipped out of the house briefly leaving me in front of an impressive radio console staring at the lighted dial and hearing voices and music of fifties radio programs. When I was about 4, she even called me into the house to hear some of my favorites as "Mr. Sandman" by The Chordettes,"The Glow Worm' by the Mills Brothers, and "This Ole House" by Rosemary Clooney.
It was pretty much a non-stop soundtrack with my mother's young aunt's 78s and the first 45s I'd seen. She had Johnny Cash's early songs like "I Don't Like It But I Guess Things Happen That Way" on 45s. These were entire worlds and soundscapes opening up such "Standing on the Corner watching All the Girls Go By", Gogi Grant's epic "The Wayward Wind" (used much later at my father-in-law's funeral), Tennessee Ernie Ford's "Sixteen Tons", Sinatra's "Three Coins in the Fountain", Doris Day's "Secret Love", Patti Page's "Cape Cod", Kay Starr's "Wheel of Fortune".  [If you ever want to hear the pre-rock '50s soundtrack, the 2 CDs to get are Top 10 Hits of the '50s, Not Now Music).
And the two guys who changed everything in the mid-fifties were Bill Hailey ("Rock Around the Clock"–the opening theme of Blackboard Jungle) and Elvis Presley (his first appearances on the Sunday Ed Sullivan Show); everybody wanted to do rock after seeing those shows. (Later it would be The Beatles on Ed Sullivan's show who would change the direction of rock toward England and groups.)
I can remember how my own life changed when I bought my first 45s in grade 5 or 6, travelling downtown in Winnipeg to a record shop (they had them then) to buy 5 records from Lillian Lewis who had just opened her shop on a Saturday. She sold me the 5 for something like 37 or 39 cents! the big three were "Blue Moon" by The Marcelles, a doo-wop band, Floyd Cramer's "On the Rebound", and "Bumble Boogie" by B. Bumble and The Stingers–the latter two were piano hits which also illustrated my simultaneous interest in instrumentals and piano as 'orchestra' and 'voice'.
I was in seventh heaven, spinning my discs endlessly for myself, pretending I was a disc jockey, while listening to top 40 and top 50 radio shows in Winnipeg. Things got even better in grade 4 when I became a paperboy and bought my own portable 2 transistor radio which I carried with me on my route 12 months a year, songs of the day everywhere I walked. I can even remember where I was when I heard certain songs on my route, like Sam Cooke's "Chain Gang" and the Everly Brothers' "Cathy's Clown" at one address in August on different days. (Later, in grade 11 with the radio, I can remember walking home from my girlfriend's house on a crisp September evening listening for the first time to Neil Diamond's "Solitary Man" , the winner of a three-new song-phone-in vote.)
Indeed, I can still sit in a restaurant today when a golden oldie comes on and tell whoever I'm with what the song and artist are, what year the song came out, and where I first heard it). An uncanny musical memory and library of pop music from the fifties and sixties mainly.