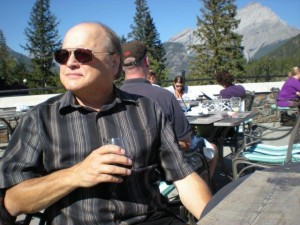 (example of attitude and weather: hard to be sad on a warm sunny fall afternoon at the Banff Springs Hotel patio)
…………………………………………………………………………………………………………..
…that deliver a slow stream over a longer period of time are annoying, of course. Fortunately, we just have just one sink like that. Glacial in filling any kind of container. But I take some solace in imagining people in Third World countries who don't have any taps or any clean water and the inconvenience seems like a technological wonder and I feel very lucky instead.
Attitude is, recurringly, all. The usual difference between a good day and a bad day is attitude. Though, of late, I feel the difference between days with light and sun vs. days with clouds and darkness. I'd much rather work or attend to errands on brighter days. I notice (for the umpteenth time) that people's spirits and moods are much better/higher on warmer or sunny days. Same-old.