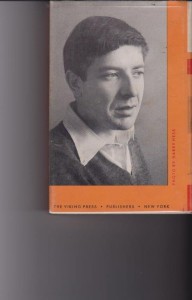 (We were all young once. Cohen's 1963 photo on the back of the U.S. ed. of his first novel The Favorite Game.)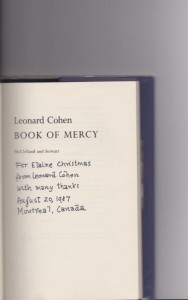 (my rare inscribed copy of a religious poetry collection for a Canadian fan)
…………………………………………………..
Obit Leonard Cohen, 82, Montreal.
It's been interesting lately that Cohen had been mentioned as a potential Nobel winner along in the wake of Dylan's achievement.
He has left us with one more album, just released, You Want It Darker, which expresses his last words to his many fans.
In 1970, there I was onstage at U of W playing several of his songs in a folk music venue; "Bird on the Wire", "Story of Isaac", "You Know Who I Am". Two years before, Judy Collins' Wildflowers album introduced me to "Hey, That's No Way to Say Goodbye'" and "Sisters of Mercy". His music eventually made up the soundtrack of Robert Altman's awesome McCabe and Mrs. Miller.
Much later, my family went to see him in 1994 at the Jube in Edmonton; what a magical concert with songs from his second-coming albums: I'm Your Man and The Future capped by roses for all the women. (I still remember him saying, around 1967, that he was waiting for women to take over the world.)
And followed him through his Buddhist period on Mt. Baldy where he went to dry out after his 3-wine bottle-a-day habit. And through his broke phase after his woman manager had swindled him (fans were very sympathetic) . To his return to concert stages around the world, bigger and better than ever. A much-beloved legend and icon.
He leaves us with so many great memorable, heartfelt songs: "Suzanne", "So Long Marianne", "First We Take Manhattan", "Take This Waltz", "Closing Time" and many more. As for a personal favorite, I'll pick "There Ain't No Cure for Love" which gets at what motivated so much of his work and his attitudes toward women, love, and romance.
I will conclude, by pointing out the obvious, that his passing will resonate around the world, not just in Canada, and that he was and remains Canada's greatest poet and songwriter.