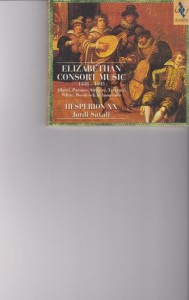 I've heard in some time.
Elizabethan Consort Music 1558-1603 by Hesperion XX Jordi Savall, Alia Vox CD.
29 glorious pieces magically evoking Shakespeare and Elizabeth I's age.
Violas, lutes, and occasional clavier, organ, voices, and percussion
Will transport you and totally relax you.
The melodies, tones, and structures are strangely hypnotic in affect.
Forget New Age; this is way/naturally better, more beautiful and haunting!