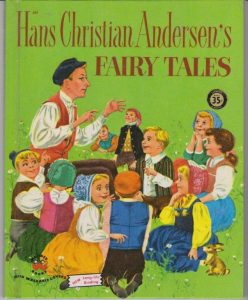 (an unforgettable cover; the book originally sold in Canada for 35 cents when my parents bought it for me in 1954-55 thereabouts; I later bought it in the 80s or 90s for $5)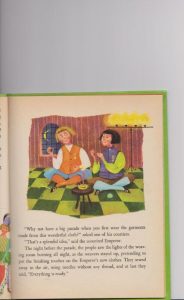 (first story; Caraway's pictures were wry and nuanced here; I still remember the moon and left weaver's joining thumb and first finger, something I no doubt would have tried myself as did millions of other readers)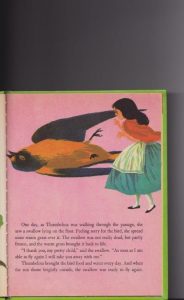 second story: my first memorable encounter with something resembling death and certainly resurrection; the blind mole in another illustration was spooky and Thumbelina flying on the revived swallow was fantastic)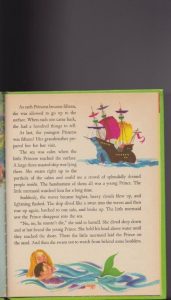 (the third story opened up the magical kingdom of the sea; the ending is sad, but was a memorable first encounter with the idea of being where one belongs)
…………………………………………………………………
Hans Christian Andersens' Fairy Tales, 1952, Wonder Book, illustrated memorably and beautifully by James Caraway, a great book illustrator.
Contains "The Emperor's New Clothes", "Thumbelina", and "The Little Mermaid".
I still remember the illustrations some 65 years later, as if it was yesterday and how I felt when I saw them.
If you missed out or remember fondly, you can still buy a copy on ABEbooks.
Was a great experience when paired with Danny Kaye's songs by Frank Loesser("Thumbelina", "Ugly Duckling", "Wonderful Copenhagen", and "Inchworm"), the best part of the 1952 film Hans Christian Andersen (Warner DVD).