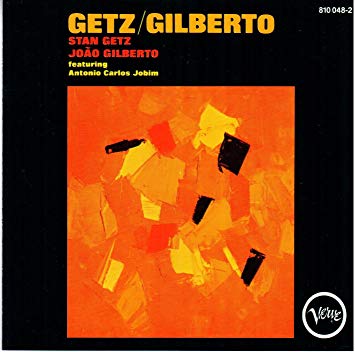 (the ultimate, classic Bossa Nova album that brought Bossa Nova to the West in 1964)
(left: a 1991 People Time album insert signed at the Yardbird Suite for me by major pianist Kenny Barron who played with Stan on his last, live Copenhagen album; right: one of the better DVDs of Stan playing in a summer Californian vineyard in front of a huge audience)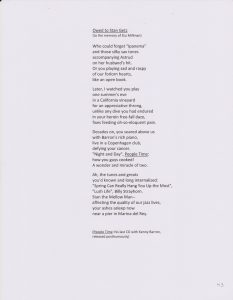 I was in grade 9/1964 in Winnipeg when I heard the single "The Girl from Ipanema" sung by Astrud Gilberto and played by Stan Getz (sax) and her husband Joao (guitar), the latter the great Bossa Nova songwriter who also sang in Portugese.
The radio hit (one of the biggest jazz hits of all time) motivated me to buy the LP; I liked Astrud's voice and Stan's expressive sax.
Imagine my surprise when I heard her husband's voice in Portugese (!) setting the stage for Astrud's part in the song which I'd heard on radio.
And the surprises continued with "Corcovado" and other songs written by her husband. She sang about 2 more songs, and Joao carried the mail vocally otherwise. I didn't always understand any of the foreign lyrics, but the emotion and keys of the songs were indicative of the feelings and mood. This was pretty much pure music.
Well, as it turned out, this introduced a brief Bossa Nova era with everyone covering Gilberto's songs. "Peter Gunn" and "Take Five" aside, this was my first significant introduction to Stan Getz and modern jazz. I, subsequently, followed Stan's music up to his death in 1991.
(I have written other poems about jazzers including Dave Brubeck, Miles Davis, and the Peter Erskine band.)