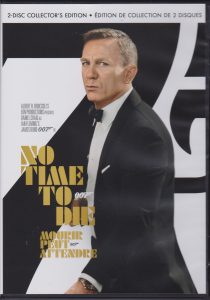 The last of the James Bonds? (spoiler: There is a note at the end of the movie that "James Bond will be back" despite Daniel Craig's character being blown up at the end of it.)

It was a good Bond flick with Craig presented more sympathetically thanks to the love of his life and their young daughter. As usual, the world is threatened by a doomsday device–this time, in tune with our pandemic time–a lethal killer virus.

All the usual crew is back including M, Q, Moneypenny, Felix, and the woman who replaced Bond as 007 when he last left the force. And so are the cliche chase scenes, showdowns, many deaths, unexpected plot twists, escapes, a nasty villain, and the destruction of the villain's fortress all deja vu in previous movies.

As send-offs go, this one is satisfying despite having, perhaps, a somewhat downer finale. Certainly, if you're a long-term franchise fan, it's worth checking out–even though it's  too longish at 2 hrs. and 43 minutes.

I was pleasantly surprised by the credits music–an oldie I'd not heard before by the late beloved Louis Armstrong: "We Have All the Time in the World" which is very touching to hear for those who remember the great Satchmo.
Overall–the movie is mainly recommended for Bond fans. For them, there are more than enough reasons to see it, including 4 engaging featurettes. It is always interesting to see Bond movie behind-the-scenes documentaries with comments by cast and crew.