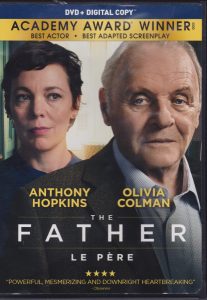 "I feel as if I'm losing all my leaves…."

Anthony (Anthony Hopkins, AA winner for this role) is an octogenarian with dementia who has come to a serious turning point in his life and in the life of his faithful daughter Anne (expertly played by Olivia Colman).
The quiet, unpredictable masterpiece is based on Christopher Hampton's and director Florian Zeller's original script. Scenes are presented mainly from Anthony's point of view ("There's something funny going on…") to capture a strong sense of time disorientation and mental deterioration.
The viewer is, likewise, confused many times by suddenly morphing characters and juggled scenes, and has to separate facts from lies and delusion. Was Anthony a tap dancer or an engineer in working life? Is Anne going to Paris or has she changed her mind? Does caregiver Laura really look like Anthony's absent younger daughter-favorite Lucy? Is John, Anne's former husband, really in the apartment? Why does the orderly Bill look like John, Anne's earlier husband? Does Anne's current partner Paul, who is a realist, really hit Anthony? Is Anne going to strangle or ultimately dump her father in an institution, to get rid of what's become a destructive burden?
The Father is largely a labyrinth and at the end most of the viewer's questions are answered by the final, ("Something needs to be done.") resolving hospital scene involving a very empathetic nurse Catherine.
Hopkins, incidentally, drew inspiration from his own Welsh father who was similarly alternately proud and angry in his dotage. This is easily one of his best roles in a long, distinguished career. Olivia Colman also does a terrific job in capturing all the conflicting feelings of the dutiful daughter.
The Father is a definitive, subjective presentation of dementia from the point of view of a disoriented man. Though not an easy watch, it does create audience empathy, sympathy, and appreciation for the plight of beleaguered Anthony, who is long, far and deep in the labyrinths of his own fatal, tragic, deteriorating condition.
The movie is highly recommended, as are Julie Christie's and Gordon Pinsent's performances in the Canadian film Away from Her on the same topic regarding a woman with dementia and her relationships.