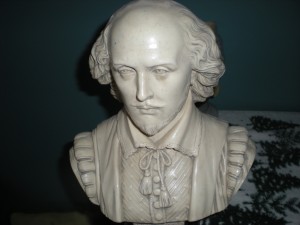 (bust of The Bard on one of my bookshelves)
Lines from "Shakespeare" by Matthew Arnold:
We ask and ask–Thou smilest and art still./Out-topping knowledge.  
All pains the immortal spirit must endure,/All weakness which impairs, all griefs which bow,/Find their sole voice in that victorious brow.
To activate any photos not showing automatically, click on any picture frame. Then click "Continue to this website"–large pic, then smaller pic will emerge. When loaded, double-click upper left-pointing arrow twice to re-enter entire website with all blog photos now displayed. Pictures can then be enlarged or smallened as wished by clicking on photo. Three sizes in total.