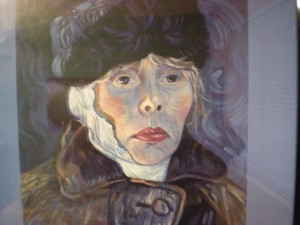 photo of poster in my bedroom–a Saskatoon Mendel Art Gallery promo for Joni Mitchell's memorable Voices exhibition; the picture itself inspired by a famous van Gogh self-portrait)
……………………………………………………
(dream below from two sleeps ago)
Never a dull moment, in my dreamland anyway.
Joni Mitchell was appearing at a sunlit, large-domed local mall for a rare post-retirement concert. She was somewhat inconspicuously busy at a table amidst other tables in the mall middle, breezing about, putting the finishing touches to some unframed paintings. (She is talented enough that she can do wonders even with the simplest of paint boxes.)
I thought she looked in good form, despite her recent health problems, and was surprised she was doing this pre-concert moment, especially without a handler or security.
Eventually a few shoppers noticed her and a nearby table with her latest albums which were in retro LP-form. A child was just leaving her table with a signed album as others began to queue up, so I decided to buy one. Opening the album, I noticed it had one side of some of her favorite songs and artists. The other was of her own, new material. I was a little surprised by all the paint stains and fingerprints on the record itself, but concluded she must have handled and package it herself personally.
Unexpectedly, some obvious political types a la oil pipelines and environment showed up and began to crowd into the area behind her table, startling her. Using my best loud, leftover, retired teacher voice, I told them 'to beat it' and 'leave Ms. Mitchell alone'. They fled, but so did Joni too since it was also close to concert time elsewhere in the mall.
I followed her to make sure no one else obstructed her and, while passing a jewellery store window, I noticed some unique, unusual gold pieces she had designed which were also being displayed to coincide with the concert appearance. I decided to investigate further inside the store….
For the rest–no, I never got to meet her or get her autograph in person. I never got to tell her how far back I had followed her career, beginning with songs like those on Judy Collins' beautiful Wildflowers album or "The Circle Game", first recorded by Ian and Sylvia Tyson on their So Much for Dreaming album.
………………………….
For me, Mitchell remains the most successful, significant Canadian female artist-songwriter-performer of the past 50 years; with a deep respectful bow to the greatly underappreciated Buffy Sainte-Marie, who is the most significant, multi-talented North American/Canadian Aboriginal artist-songwriter-performer of all time. Two incredibly talented, inspirational ladies.