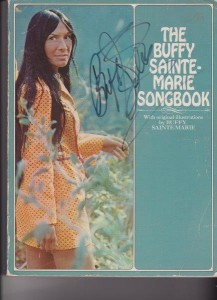 (old music book signed by Ms. Sainte-Marie for me at Festival place concert five years ago)
***********************************************************************************************
Buffy has one of the most unique voices you will ever hear. At 73, she is still more than vocally intact and sounded great at the concert with an interesting band. I have been a fan since 1967, when I first discovered her via her Fire, Fleet, and Candlelight album. She plays guitar and mouthbow and has written many great songs such as "Until It's Time for You to Go".  A long-time artist and activist, she has lately turned to working with e-media as seen in her Up Where We Belong DVD.
Meeting famous people is always interesting. I was first in line for her after-concert signing, and we talked a bit. She was surprised how far back my LP and book items went and we talked a bit about her Sesame Street connection which is how many children will remember her. She was still very pretty and surprised me with her demureness and diminutive size. I had always imagined her as taller and bigger-bodied. She was wearing a beautiful, tastefully-colored and decorated Aboriginal dress jacket.
It was a true honour and privilege to meet the great Aboriginal person/artist for whom I have most respect and whose career is now into its 6th decade. An amazing, beautiful, multi-talented person.