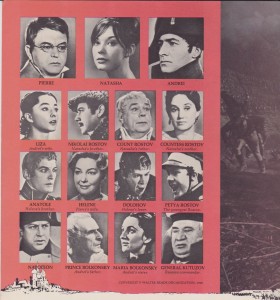 (a page from the awesomely rare 1968 English theatre program)
A must-see for the serious film fan; the most expensive Russian film ever made. A true epic.
Sergei Bondarchuk's film took 6 years to make and it was released in 1966 and 1967, winning a Best Foreign Film Oscar. It cost 91 U.S. dollars at the time to make, incidentally. Today it would cost billions to redo. There are and have been different lengths shown ranging from 6 to 8 hours. The 2:30:1 letterbox-widescreen Kultur DVD version (restored from the 1988 non-70 mm version) has 5 discs, one of which contains interviews, documentaries, and background to the film and director.
The Americans had done their own 1950s take on Tolstoy's novel, directed by King Vidor, but the Bondarchuk is far more faithful to the original book and a much bigger, more befitting adaptation. Notably, the director organized a crew of 20,000, used 3 military advisers, mustered actual historical artifacts and thousands of costumes. Even the Soviet army participated in the many impressive battle scenes.
The cinematography, particularly of the big scenes, was artistically handled by Anatoly Petritski who is equally responsible for the film's final look. Unfortunately, a choice was made to shoot on inferior Russian film stock so the colors and, ultimately, the quality of the film's look is not as good as it might have been.
Amazingly, during production, Bondarchuk suffered two heart attacks and was pronounced clinically dead twice, but he literally came back from death to finish this awesome monster project. He also plays the protagonist Pierre and does a good job as do all the actors, even those in bit parts. This movie is true labor of love, tremendous cost and sacrifice.
There is a poetic largeness about this film and it does very well in bringing home the horrors of war in the battle scenes, the 1812 invasion of Moscow by Napoleon, and the French retreat. Domestic scenes and party scenes are also well-handled; there is a strong sense of atmosphere throughout the film. Many locations are used; there is next-to-no studio shooting. There are also several stream-of-consciousness scenes and a fair bit of philosophizing about life that will still interest serious viewers and the more-thoughtful today.
Well-worth either a rental or purchase by the more serious buff. 5 stars out of 5, easily. An impressive, memorable, albeit longish, classic.
…………………..
ps./ truly a world film with many choices of language and subtitles for viewing. The English audio version is reasonably synched to the actors' lips and moods. But, if you can multitask, then you might choose Russian for the spoken and English for the subtitles. I just preferred it for more faithful original sound, original speaking tones, and additional nuances.
I forgot to add that there is nothing Hollywoodish about the casting; most of the actors are plain/ordinary-looking and realistic (the exception being the Audrey Hepburnish-looking Natasha). It is, in any case, not an actors' film, but rather an ambitious attempt to bring Tolstoy's novel to the screen. In that sense, it is mainly a director's film (about his editing and the challenge of organizing and directing 20,000 people) and a cinematographer's film.