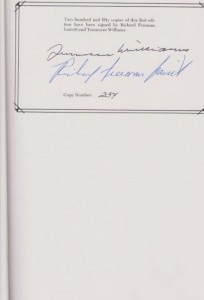 (rare, signed limited edition page of my World of Tennessee Williams, an illustrated biography)
"I have a life in my body, this dead tree, my body, has burst in flower! You've given me life. You can go!"–Lady to Val
The Fugitive Kind a.k.a. Orpheus Descending is a powerful, highly literate play and movie directed by the late great Sidney Lumet (The Verdict, Dog Day Afternoon, 12 Angry Men, A Long Day's Journey into Night, Network). It stars Marlon Brando as a cool, principled, wandering, guitar player in a symbolic snakeskin jacket. He finds work as a clerk and lover of Lady (Anna Magnani), the used wife of a dry goods store owner-vicious, jealous husband (Victor Jory) spoiler— who killed her father and his and her paradisical cantina dreams.
Joanne Woodward flits through this hotbed as a trashy slut who wants to possess Val; she effectively goes beyond her Three Faces of Eve bad persona performance. Maureen Stapleton is also effective as Vee, the creative compassionate wife of the nasty Town sheriff (R.G. Armstrong).
Williams explores several familiar themes in this poetically primitive Deep South tragedy including Jim Crow racism, politically incorrect violence toward women, and the hope, determination, and failure to find peace and love in an ugly, brutal human world. The play is also, simultaneously, about the hope and failure of the American dream.
One of the most unusual, well-done movies you'll ever see with deliberate, skillful black-and-white cinematography, lighting, and editing. But above all else, an actor's-movie showcasing bravura performances.
"Nobody ever gets to know no body! We're all of us sentenced to solitary confinement inside of our skins for life."–Val to Lady