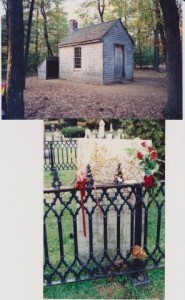 top: Thoreau's cabin (facsimile) at Walden Pond, Mass.
below: Emily Dickinson's grave, Amherst, Mass.
…………………………………………………
Boston: Lenox Hotel, harbour cruise, Bull & Finch (Cheers) pub, Quincy Market, Boston Common. Fenneuil Hall, Old Burying Ground
Salem, Mass.: House of the 7 Gables–Garden Coffee Shop, Salem Witch Museum
Derry, N.H.: Robert Frost Farm-"Mending Wall", "Hyla Brook", "West Running Brook" (actual sites)
Franconia, N.H.: Robert Frost Place
Squam Lake: On Golden Pond filmed here
Lake Winnepesaukee: Mt. Washington boat cruise
Portsmouth, N.H.: Strawberry Banke antique houses
Freeport, Maine: L.L. Bean flagship store
Boothbay Harbor, Maine: Tugboat Inn accommodation on/over the bay
Camden, Maine: Edna St. Vincent Millay statue
Bar Harbor, Maine: Castlemaine Inn–old-fashioned B & B, Acadia National Park: Mt. Desert Harbor, Cadillac Mountain view, Sandy Beach where Cider House Rules filmed
Montpelier, Vt.: Inn at Montpelier
Ripton, Vt.: Homer Noble Farm (Frost's last home)
Bennington, Vt.: Frost's grave
N. Bennington: Shirley Jackson's house
Pittsfield, Mass.: Arrowhead (Melville house with view of Mt. Greylock (Moby Dick inspiration)
Lenox, Mass.: The Mount (Edith Wharton's estate)
Stockbridge, Mass: Rockwell museum, Red Lion Inn
Amherst, Mass: Dickinson house (living room and her bedroom and garden all visitable), Lord Jeffrey Inn (where Frost stayed when at Amherst College)
Hartford, Conn.: Mark Twain house
New London, Ct.: Monte Cristo Cottage (Eugene O`Neill house–site where Canadian Long Day`s Journey into Night was filmed)
Newport, R.I.: Newport mansions (includes Rosecliffe–where Redford Gatsby and True Lies filmed), Inn at Castle Hill, the Cliff Walk(seen in Reversal of Fortune opening)
Concord, Mass.: The Old Manse (Hawthornes and Emerson lived there), Concord bridge (where Americans fought British), Orchard House (Alcott home & school), Sleepy Hollow Cemetery (where several illuminaries are buried), Walden Pond, Thoreau Lyceum
Cambridge, Mass.: Harvard U, T.S. Eliot`s house, Longfellow`s house
…………………………….
Best time to go? (Been there 2x) First week of October