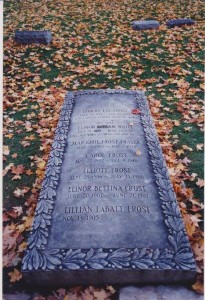 (Robert Frost family gravestone, North Bennington, Vermont, taken October, 1991)
(from "October")
O hushed October morning mild,
Begin the hours of this day slow.
Make the day seem to us less brief.
Hearts not averse to being beguiled,
Beguile us in the way you know.
Release one leaf at break of day;
At noon release another leaf;
One from our trees, one far away.
Retard the sun with amethyst.
Slow, slow!
(conclusion of "Reluctance"
Ah, when to the heart of man
Was it ever less than a treason
To go with the drift of things,
To yield with a grace to reason,
And bow and accept the end
Of a love or a season?
–excerpts by Robert Frost
……………………………….
Looking back, I have long taken the road "less traveled by", similar to Frost, via poetry, unconventional teaching, and dream.
In grade 11, my imaginative/creative self was awakened by Brian Kells during a unit on Frost's poetry. I immediately connected with Frost's views of Nature and his poetry. He was the first poet who impressed me with a body of work. No doubt, his love of fall connected with my own, too.
In 1991, I made my first fall New England journey taking a short leave from teaching to follow a building bliss for that area, its writers (notably Frost and Dickinson), and the imaginative dream-world projected by New England and its writers. That pivotal moment marked another turning point in the direction of my own life and quenched a great inner spiritual thirst and hunger.
I should add that my old Ed CI prof-friend Glenn Martin was in Frost's class at Harvard and gave him a Christmas card poem that year. I learned much about Frost's presence and personality from many talks with Glenn over the years. Looking back, I would have to say that Frost and his sensibility have been significant in forming my own views of Nature and nature poetry writing.