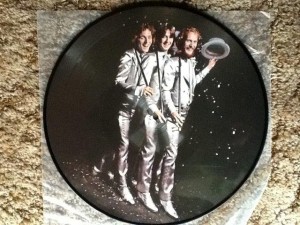 (photo of my Cream Goodbye album limited-edition-picture-disc: bassist-vocalist Jack Bruce on left, guitarist-vocalist Eric Clapton in middle, drummer Ginger Baker on right)
Cream was the first, greatest, (and most short-lived) supergroup of all-time, 1967-1968. The never-dull Jack Bruce who just passed away yesterday, at 71, was to bass what Keith Moon was to drums, and was one of the major pillars of this group, its music and sound. He memorably played bass, wrote and/or sang on "Sunshine of Your Love", "White Room", "Sitting on Top of the World", "Politician", "Born under a Bad Sign", "Deserted Cities of the Heart", "Spoonful", "We're Going Wrong", "Swlabr", "I'm So Glad", "Tales of Brave Ulysses", "Sleepy Time Time", and "Rollin' and Tumblin". He also played a mean harmonica, cello, and piano.
Bruce was an unconventional, jazzy bass player who could sing lead vocals soulfully at the same time (which is never an easy thing to do). He changed the way many bassists play bass, especially in counterpointing a lead guitarist or playing with drums. The Goodbye album was Cream's fourth and final  LP and, though they were breaking up, they were still young and enjoying life on the cover. To Jack Bruce, I bid a very fondly remembered Adieu, man. His playing and singing have long been in and will always be in me and my musical sensibility and memory.