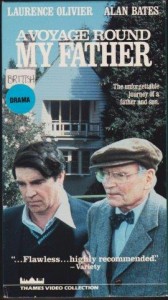 (photo of my VHS case)
A different, engaging movie for anyone who loves strong British acting, older actors (Laurence Olivier, Alan Bates), the generation gap topic, or the eccentric old man motif. Originally a play by John Mortimer and shot at Mortimer's childhood home, the movie is episodic ranging from the son's childhood to his adulthood as he deals with an older father, his decline, and, finally, death.
Olivier makes a funny curmudegeon who tests the nerves and patience of everyone with his observations and games-playing. Bates is the flustered, unsure adult son who can never break through the façade of his aging father's stubbornness and public performances to affect any kind of male closeness. It is especially interesting to hear what he is left with after his father dies and it certainly is none of the conventional things an orphaned son typically inherits, which he outlines concisely.
Strong, too, are the key supporting roles of the women characters played more-than-capably by Jane Asher and Elizabeth Sellars. The movie, though simple-plotted, rings true; there is a realistic fragmentedness about its scenes and overall capturing of family and marital relationships that will linger with one long after viewing. Made about 6 years before Olivier passed on, this is a scene-stealing tour-de-force for him every time he anchors or appears in an episode. Highly recommended for all of the above.
……………………..
"The road to identity runs through a growing awareness of role-playing, of understanding the one to which one is playing ritual games in society."–Northrop Frye, Northrop Frye on Literature and Society