Souvenir from Lodge store–engraved wood pen set.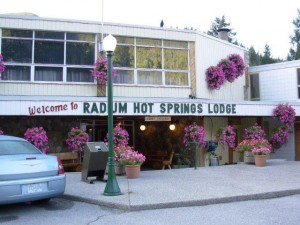 Arriving at the Lodge at the top of a hill after driving up a one-lane road opposite to and overlooking the pools area.
The view from a poolside balcony looking back to the red rock canyon bend coming into the pools and hotel area. The flower baskets were on each balcony in summer and fall.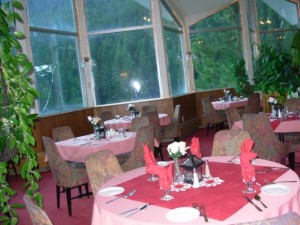 Window tables by the picture windows looking up at hills surrounding the pools area and hotel. One could leisurely watch the changing weather and birds from here. Meals were served 3x daily.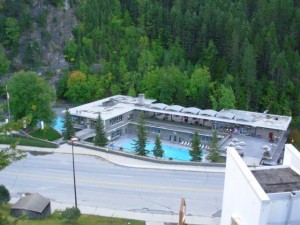 View of the cold pool and road below. (Hot pool peeking out to left of the main building and entrance.) Private rickety elevator (no fun being caught in if there was a power outage, I imagine) from hotel to ground level sticks up on right side of picture. On ground level, it was then only a short dash across the road to the pools entrance.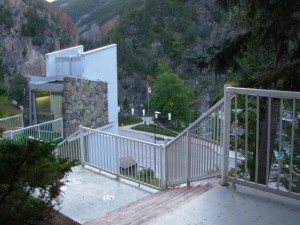 Stairs descending to the above-mentioned, outside elevator from hotel.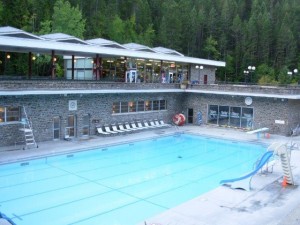 The cold pool–most people prefer the hot pool. Only kids and young adults swim and dive here. In total, it took about 10-12 minutes to actually get into the hot pool from the hotel.
View of Lodge across road from cold pool. My daughter and I saw bears to the right of the hotel above (about 20 yards) when we walked in that direction. They were climbing a nearby tree for its fruit. The pic on the right is the tunnel entrance to the elevator that came out onto road level.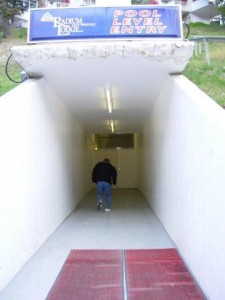 Some rube walking toward the elevator.
Lest we forget. The 78-room lodge ran from June 1965 to March 2011, and was torched by human hands in October 2013–an ignominious fate. My family always stayed there from the 1980s to 2008 for many reasons–mostly for the views, its closeness to the hot pool below across the road, the souvenir shop, and the restaurant. it was just such a neat place to stay–very quaint, with viewable animal life. I have many fond memories of sitting on the poolside balcony overlooking the road snaking east into the red rocks, listening to the big vehicles gearing down as they descended into the pools area on the way to Sinclair Canyon and the townsite. I wrote a couple of poems there, but one special memory comes back this morning of a warm early morning on the balcony with hanging flower pots, and an eager ruby-throated hummingbird syphoning his breakfast about a foot away from my head beneath him.
No, they don't make them like they used to and it was sad to see the lodge fall victim to politics and, then, fire. This fall I looked across from the hot pool up at where the Lodge used to be and remembered all the special family stays there.