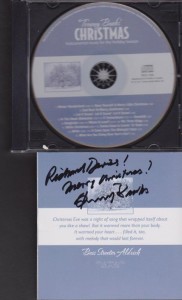 by Edmo's own jazz legend Tommy Banks. His talented band and his first-class arrangements.15 classic tunes wonderfully reworked and delivered with some off-the-main-oft-trodden-path titles: "In the Bleak Midwinter', "Snowfall", "Where Is Love?", ""White", and "What Are You Doing New Year's Eve?". Beautiful seasonal piano and conducting to boot. Easily the best Canadian Christmas instrumental album ever.
(Royalty Records, 2011) Thanks Jer for this one.
………………..
flashback: I had the distinct pleasure of creating charts with the legendary Banks for some poems I read, backed by his combo, at a Harry Ainlay Beat café evening in the their agora one evening. One of my favorite past gigs combining poetry and music.