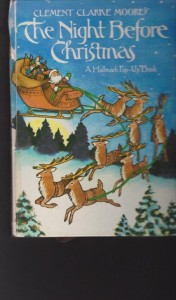 Hallmark classic pop-up book with movable parts/action. Highly recommended.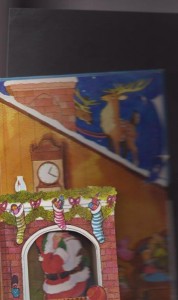 Santa leaving via the chimney.
Then Santa popping out top of chimney. This never fails to impress kids 2-4. Magic to them.
Blog entries are copyright by entry date, Richard Davies. If accessing site from Internet, activate any photos not showing automatically, by clicking on any picture frame. Then, despite Caution, safely click "Continue to this website"–pics will then emerge. When loaded, click upper left-pointing arrow twice to re-enter entire website with all blog photos now displayed. Individual pictures can then be enlarged as wished by clicking on each photo per se.