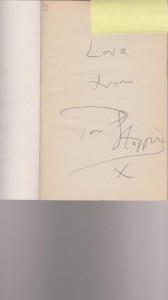 (signed copy of Rosencrantz and Guildenstern Are Dead)
Tom Stoppard's 'masterpiece' Arcadia, a play currently running at Citadel here in town, sucks. It is a monumentally tedious, patronizing, 'academic play' that endlessly talks down to the audience, only connecting with it when using occasional bits of pandering coarse humor (which doesn't say much about modern audiences, incidentally).
The 'writing' per se ranges from flatly weak to pseudo-intelligent. The various theories are just mumbo-jumbo thrown periodically at the audience to make it feel that there is a truly 'significant' mystery here as well as hifalutin ideas buried beneath the genuinely boring plot set in two different historical time periods (itself a tired, failed gimmick). All of this is supposed to make the audience feel 'smart' and 'privileged' (A painfully obvious appeal to theatrical snobbery.) A Lord Byron mystery??!!
It is difficult to feel anything for the 12 characters; none of them are particularly likable, nor interesting, mainly because Stoppard is himself is too lost in the 'clever ideas' of the play to care about any of them except the two pontificating male characters. None of this is the actors' faults; they simply have so little to work with. The preachy vehicle and the flat writing are to blame.
This is easily one of the worst productions Citadel has staged in memory. Having suffered through an hour and forty minutes of the painful opening act, my friend and I abandoned ship and headed for the exit along with many other patrons who didn't need to be, likewise, patronized rather than coherently and convincingly entertained.
The patently self-indulgent Arcadia is, finally, also a very far cry from the playful brilliance of Stoppard's Rosencrantz and Guildenstern Are Dead which remains a comic masterpiece (with the audience in on the jokes). But this 1990s amorphous, 'abstract', mind-numbing play is simply a waste of time, money, and effort posing as actual brilliance, cleverness, depth, and wit.