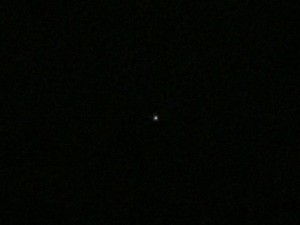 (space station in flight taken by my daughter from her bedroom window Monday evening; the day started with her at 6:30 am and ended with this e-mail pic after 10:15 pm.)
(Safe Read-Only site–ignore any security warnings when opening pix.)
It was all there for me again yesterday. Driving my daughter to/from work, both ways. The usual steady run of relaxed spontaneous jokes and mutually perceptive observations. Sliding naturally into the old-style comfortable easy patter. What can you say about an adult child who gets 100%s in her essays for online courses and enjoys her very unique work in a tower downtown that displays the Flames colors at night?
Planning errands that go fast and easy like finding 3 cards at Hallmark within 5 mins. and buying a sandbox and enough sand at Toys 'R' Us for the patio for the grandson to enjoy when he visits. Booking, via phone, preselected restaurants in another city for our trip next week. My long-time planning, organization, and completion skills remain intact. I can still get a lot done in a very short window of time.
Having one crisis (mostly emotional imagined as it turned out) with the roller-coaster of emotions thrown in, then sudden relief when my common sense and logic took over and a solution was found.
Gliding into a leisurely afternoon with no work, with coffee instead, relaxing and reading a newspaper at Second Cup. Savouring spontaneous useless pleasures at a snail's pace.
Going to my son and his wife's place for sup on them, being hospitably-hosted by her, playing with my grandson, and witnessing the latest bedtime rituals, complete with a paper list he also consults as evening unfolds! Reading a Mercer Mayer wordless classic OOPS with him, both of us imagining and talking about the pictures as he 'catches on' to the story and picture details and cues.
Then listening to his stream-of-consciousness patter via remote hand-sized intercom (now there's a good e-technology) as he talks about bedtime in a larger sense and what others are doing, making imagined, empathized connections in another room, unseen and completely free. So much of life is about the joy and consciousness of empathy and connections with those around us who matter most. (And being able to witness positive individual growth and increasing consciousness.)
I eventually became one of three adults singing to him by his bed. He wanted me to sing Beatles songs last night out of the blue, so I did "She Loves You" (complete with head shaking parts), "I Want to Hold Your Hand" (with gestures), and "Yellow Submarine" (kids always like repetition). Music, like reading and experiences with Nature, always brings out the best in people of all ages. It is pleasurable and connective on so many levels. the simple delight of spontaneous song or music.
Helping my son (who got home late) haul a large bookcase from the new room for the grandson to the basement via an awkward narrow staircase. My strength and stamina remain intact as they did for this job. Good to be old yet strong, and to consciously know one's limits. (Dirty Harry: "A man's got to know his limitations.)
Coming home to an unexpected e-mail from my oldest childhood chum back in Winnipeg. My oldest connection now. A decent, funny, smart friend who works for Boeing and ended up a teacher himself. (One of my favorite memories is his visit here last September when we played the old songs together and revived our long-time musical connection. Very self-completing and mutually-completing. Another unexpected dream come true.)
The perfect finale: watching the space station, looking like a small star, gliding slowly west to east across the southern sky. Standing in the dark backyard, I was reminded of so many previous sightings in the past and how much pleasure I used to derive by looking at the stars, going to the old Queen E planetarium (1st planetarium built in Canada), enjoying the imaginative constellation figures embedded into that patio, and looking through telescopes set up outside the new planetarium by astronomy fans to behold an occasional special night sky event. What a privilege! Still being able to marvel at the night sky, the stars, the universe, and all the wonders that there are, all around us every day. Yes, I thank my many lucky stars so far.
The day ended with the above e-mail pic, my daughter bookending a red-letter day. Yeah, Monday had it all. A perfect (spring) day.