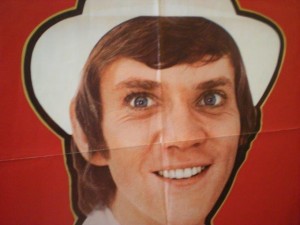 (portion of 1973 O Lucky Man! poster)
I am a long-time film buff going back to my childhood and teen years. I taught film studies in senior high school English and later served as a Film Classifier for the Province of Alberta for 3 years.
To get to an entry/selection: look up by month and year in right-hand column on any of blog's pages.
Christmas Classics Still Relevant Today, Dec. 8, 2012
Klute: A Classic Film Reviewed, Mar. 13, 2013
Capote: Another Film Review, Mar. 13, 2013
The March of the Penguins: Review, Mar. 13, 2013
Fast, Cheap, and Out of Control: Reviewed, Mar. 13, 2013
Kenneth Branagh as Macbeth, Oct. 17, 2013
Robert Redford vs. Nature: All Is Lost, Oct. 28, 2013
Revisiting Movies: A Top Film List, Jan. 4, 2014
Hitchcock's Spellbound, Jan. 10, 2014
Hitchcock's Suspicion, Jan. 11, 2014
Hitchcock's Shadow of a Doubt, Jan. 13, 2014
Loneliness, Missing Pieces, and Mrs. Stone, Feb. 2, 2014
Shoulda Won Oscars–Best Picture, Mar. 1, 2014
Best Oscars–Looking Back, Mar. 1, 2014
Bondarchuk's Film of War and Peace, Mar. 6, 2014
St. Pat's: 3 Recommended Films, Mar. 16, 2014
3 Strong Takes on Joyce & Dublin, Mar. 16, 2014
True Film Greatness: La Dolce Vita, Apr. 5, 2014
My Dinner with Andre, June 13, 2014
Eli and The (Other) Misfits, June 26, 2014
Manhattan Murder Mystery, July 20, 2014
Sweet Bird of Youth, July 22, 2014
Falstaff (Chimes at Midnight) July 24, 2014
The Fugitive Kind, July 27, 2014
Kirk Douglas: Before I Forget, Aug. 4, 2014
On Stars Going Out, Apr. 8, 2014
Darling (1965), Aug. 13, 2014
Time to Cool off at a Movie Theatre, Aug. 15, 2014
Heaven Knows, Mr. Allison, Aug. 16, 2014
A New Kind of Love, Aug. 21, 2014
Best Documentary 2013, Aug. 22, 2014
The Desperate Hours, Aug. 24, 2014
Compulsion, Aug. 27, 2014
On Netflix and Diminishing Quality and Classic Movie Choice, Sept. 27, 2014
Best Halloween Movies: A Personal Choice, Oct. 31, 2014
Hollywood Ending (2002), Nov. 3, 2014
Charade (1963), Nov. 7, 2014
Never What You Think It Might Be: The Romantic Englishwoman (1975), Nov. 7, 2014
The Bishop's Wife (1947), Nov. 13, 2014
And Then there Were None (1945), Nov. 14, 2014
A Voyage Round My Father (1983), Nov. 15, 2014
Two of the Greatest Movies Ever Made in and about the Sixties, Nov. 22, 2014
Who Has Seen the Wind (1972), Nov. 22, 2014
The Fox (1967), Nov. 25, 2014
Civilization and One Other Art Form, Jan. 16, 2015
Boyhood (2014), Feb. 4, 2015
A Brief History of Time (1992), Feb. 7, 2015
Life Itself (2015), Mar. 31, 2015
Altman Documentary (2015), Apr. 6, 2015
Here's How Much the 40% Netflix Subscribers Miss, Apr. 9, 2015
Murder on the Orient Express, David Suchet Version, May 8, 2015
Finally an Orson Welles Biography on DVD, June 12, 2015
Patrick Macnee, June 24, 2015
Thank You, Glen Campbell/I'll Be Me, June 29, 2014