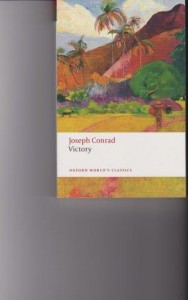 It is a revelation to go from Conrad's earlier novels to this one, written as WW1 was starting. Conrad's style changed greatly and his sentences are shorter and plainer while his diction is less obscure and much easier to digest while a reader absorbs this peculiar narrative. There is much that is familiar here to anyone who knows of Conrad's life and earlier works: the Malaysian archipelago, a mysterious strange introvert who is in freely-chosen 'exile' living away from the rest of the world on an island, ignorance and societal criticism of the protagonist, a tragic end, and a stand on principles with the protagonist being true to himself.
What is different from other Conrad works is the plainer style, a strong sense of evil and menace, and a significant female character–Lena–whose choices finally give understanding to the meaning of the title. The novel is particularly strong and suspenseful from the point that three nasty minor characters–Jones, Ricardo, and Pedro–show up on Axel Heyst's island. Conrad does a nice job on the two scenes between Ricardo and Lena as well as the chaotic, mad climax; these are some of the most powerful, memorable scenes he ever wrote.
idea-wise, Conrad focuses first on the theme of the maligned hero who is slandered without his even knowing. (This information later becomes important when Lena has her doubts about Axel after they arrive on the island.) Conrad always does a good job in showing how protagonists are affected and influenced by their social contexts and environments. Axel's father had not only influenced his son negatively, but he has turned him into an anti-social being, unfamiliar with the ways of women and love.
But, as always in Conrad, the protagonist's fate rests with his choices and it is these that prove to be of most interest in understanding and appreciating Axel's character. And as usual, it is the atmosphere and setting that have the most affects on the reader– Conrad's amazing ability to create exotic worlds of believable and stirring conflict; what made him such a great writer in his day.