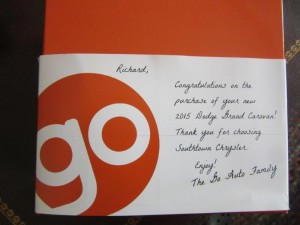 Change continues to gallop in modern times. On average, I experience a minimum of three changes per day, usually occurring via mail, email, or when I go out with the new wheels.
Today, my car insurance company closed their office near me and now I have to go across town to the remaining office. (The changes are usually a result of downsizing with convenience for the company, not the customer.)
Also, one of my credit cards will be changing over to new features in January. And the car company I bought my van from surprise-delivered (no doorbell) a personalized box of (congratulations-for-buying-a-new-vehicle-from-Go Auto) cookies to my house. (See photo above.)
Give us this day our daily (3) changes.