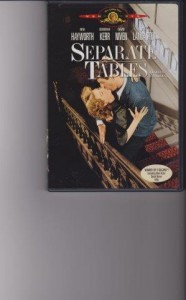 Definitely a movie way ahead of our politically-correct times about a lying codger whose sexual harassment of many women is forgiven by a woman afraid to say the word 'sex', and given to hysterical fits; a single woman who owns and successfully manages her own resort hotel 'without a man'; a cad dominated by a druggie-woman who lives to dominate him; and an old intolerant bat who loses her power over her repressed daughter and other hotel guests while trying to evict the creepy 'pervert'-major. All are ultimately forgiven except the old bat who plays the ostracism card/game and is the final lonely person left standing because of her mean-spirited manipulations.
The alienated 'victims' at the beginning of the film all become 'winners' who find social approval and other friends by the end of the film. These include the guilty, but relatively harmless Major Pollock (played by David Niven in an Academy-Award-winning role), the strong, autonomous Pat who owns the hotel and graciously loses her long-time lover  (played by veteran English actress Wendy Hiller who also won an Academy Award for her supporting role, too), the flawed, confused John who fails to understand the women in his life until very late (well-played by film co-producer Burt Lancaster), the beautiful woman who uses men for her ego (perfectly played by Rita Hayworth), and the pathetically shy, repressed Sibyl (unexpectedly played by Deborah Kerr in a uncharacteristically 'humiliating' role for her).
All the other minor characters are first-rate and played by British veterans including Gladys Cooper, Cathleen Nesbitt, Felix Aylmer, Rod Taylor, and Audrey Dalton. The source material for this film was a provocative play by Terence Rattigan and director Delbert Mann allows each performer to shine in individual, cameo-styled moments.
The movie comes down on the sides of each of the outsiders; forgiveness is its central theme. The play and movie suggest that each of the characters deserves a better fate with the result that fears and loneliness are defeated for one and all. Whereas differences, prejudices, and discrimination normally triumph in real life, Separate Tables is ultimately wish-fulfillment, showing how the better sides of people can overcome irrational fears and emotional coldness (symbolized by the separate tables and coolish 'U.K. tone' of the title).
This MGM DVD is highly recommended for its message and unconventional character choices as well as the excellent 'ensemble acting'.